Welcome to

SKF Cooper
Since Thomas Cooper invented the split roller bearing in 1907, the Cooper brand has been universally accepted as the benchmark for split roller bearing quality and expertise.

More than 100 years later, SKF Cooper is proud to continue offering the highest quality and widest range of split to the shaft bearings on the market, confirming the company's status as technology leader.
SKF Cooper Products
The split to the shaft bearing can be built around the shaft without dismantling adjacent equipment or machinery. This means significant reductions in fitting time over solid bearings, with dramatic reductions in downtime and immense savings in plant maintenance. Savings are especially high in "trapped" or inaccessible locations.
SKF Cooper Products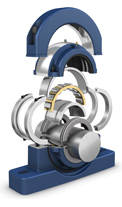 Our Industries
and Markets
Wherever machinery is under pressure to perform in the most demanding operating conditions on land, underground or underwater, you'll find Cooper bearings going strong.
Industries & Markets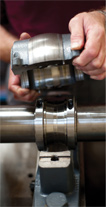 Product Selector &
3D Model Download
Use our Product Selector to create 3D Models for download and help you select both bearings and appropriate housings. If you prefer to take advantage of our bespoke service, please contact us.
Product Selector